Dealing with a lice infestation can be a distressing experience for both parents and children. One of the most significant challenges in this scenario is discerning between lice nits and dandruff, as their similar appearance can lead to confusion. However, grasping the dissimilarities between these two conditions is paramount for effectively addressing the issue, preventing its recurrence, and ensuring it doesn't escalate into a more significant problem.
At Lice Care Solutions, we recognize the importance of swiftly identifying, treating, and preventing lice nits. Our team of dedicated health professionals has developed a proven process to tackle these issues head-on. In this comprehensive guide, we'll walk you through the intricacies of distinguishing between lice nits and dandruff, the methods to safely identify the problem, and the appropriate steps to take next.
The Importance of Proper Inspection
How to Locate and Identify Lice and Nits?
The initial step in addressing lice and nits is a meticulous inspection. Understanding the visual distinctions between lice nits and dandruff is vital. The following images provide a close-up view of lice nits and dandruff, allowing you to differentiate between the two: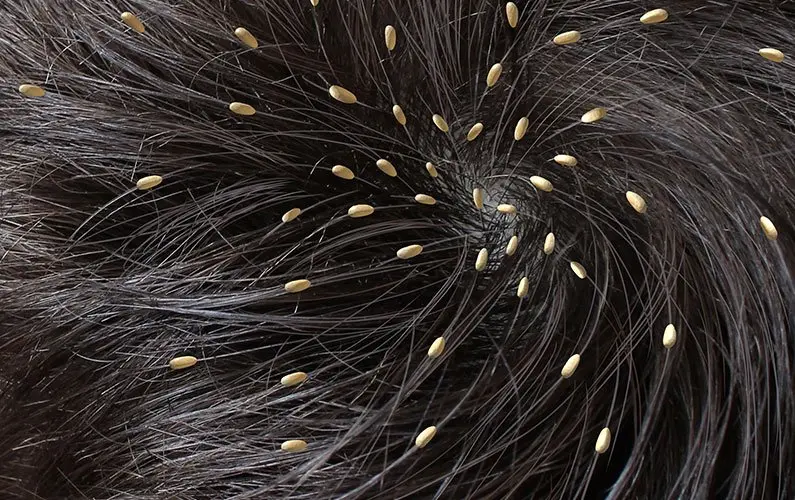 To the untrained eye, it's easy to confuse dandruff with lice nits. Both can appear as translucent white particles caught within strands of hair. Here's how to navigate the inspection process effectively:
1. Make Visual Distinctions: Train your eye to differentiate the physical appearance of lice nits and dandruff.
2. Observe Behavior: Manipulate the particles and observe their behavior.
3. Texture Matters: Lice nits have a hard shell-like texture, distinguishing them from dandruff.
4. Perform the Paper Test: To confirm, place the removed nit on a white wet paper. Its distinctive characteristics will become more apparent.
Identifying Lice and Dandruff by Physical Appearance
Upon closer inspection, lice nits exhibit distinct features. They possess an oblong shape with a pointed end and a round back, adhering firmly to the hair strand. Their color may range from yellow to brownish hues. Conversely, dandruff lacks a distinct shape; each flake varies slightly and lacks a fixed form. Moreover, dandruff flakes tend to be larger than lice nits, aiding in differentiation.
Differentiating by Responsive Behavior
The responsive behavior of lice nits and dandruff also aids in accurate identification. Lice nits remain securely attached to the hair strand, thanks to their firm teardrop shape. In contrast, dandruff flakes lack consistency, shape, and adherence. This behavior distinction can further assist in distinguishing between the two conditions.
 Safe Examination Practices
During the examination, it's crucial to take precautions to prevent potential spread. Utilize gloves and a specially designed Nit & Lice Removal Comb to minimize any transmission. If uncertainty persists, seeking professional guidance is wise. At Lice Care Solutions, our in-home inspections offer convenience and all necessary tools to ensure accurate assessment.
Effective Treatment Strategies
Treatment Options for Head Lice Eradication
Once head lice are identified, immediate treatment is paramount. Multiple treatment approaches are available:
1. In-Home Treatment by Health Professionals: Lice Care Solutions offers in-home treatment by skilled health professionals. Our process includes meticulous inspection, specialized tool-based lice and nit removal, and follow-up care to ensure complete eradication.
2. Physical Lice Clinics: Although clinics are an option, in-home inspections provide unmatched convenience and privacy. Lice Care Solutions brings medical professionals to your doorstep, ensuring a thorough examination in your comfort zone.
3. Over-the-Counter (OTC) Treatments: OTC treatments like shampoos or cream rinses can be found at most drug stores. However, they often contain harsh chemicals that can harm the scalp and hair. Additionally, some lice have developed resistance to these treatments, rendering them less effective.
Don't allow lice to disrupt your routine. Contact Lice Care Solutions today to schedule an appointment and gain control over the situation.
Conclusion
Distinguishing between lice nits and dandruff is a critical skill for effective management. With proper inspection techniques, a thorough understanding of their distinct features, and informed treatment choices, you can confidently address head lice concerns. Remember, if uncertainty lingers, reaching out to professionals like Lice Care Solutions ensures accurate diagnosis and successful management.
CALL US NOW FOR A FREE LICE CONSULTATION!
Our expert lice consultants are available 24/7 to answer any questions you might have regarding in Home Lice Removal.